Hello And welcome to legends Number 32 Mr
Frank Zappa
I have been waiting a good while to see this legends and I think the wait has been more than worthwhile . This legend is the work of
Frankyz84
I take no credit what so ever . So stop reading this and get on with the thread .
Frank Zappa.
Born Dec 21, 1940 in Baltimore
Died Dec 04 1993 in San Fransisco
Francesco Zappola, born December 21st 1940, in baltimore, of Sicilian/Greek
parents.In 1950 at the age of 10 he started to learn to play drums, From
here his interest in music developed. And so began writing songs. he was
greatly influencedby the blues music of the 1920s and 30s deppresion era,
espesialy Willie Johnston,Which lead him to pick up guitar, after moving
to Lancaster at the age of 12. At the age of 15 he met Don Van Vliet
(who became Captain Beefheart)and formed a school band called 'Blackout'
who then renamed themselves 'Joe Merrino and the Mellowtones,and changed
again a while after to 'The Ramblers'
Frank Zappa`s first big break came when a producer heard him performing
some of his own songs, and recognising his songwriting talent, asked him
to write the music score for a "B" movie called 'The Worlds Greatest Sinner.
Now able to gain acsess to the music industry, it was not long before his
talents were being recognised by the record labels, and was signed to "Verve"
a label owned by M.B.A. His first "Pro" band was called 'The Soul Giants'
And after a lineup change they renamed themselves 'The Muthers' then
'The Mothers of Invention'. In 1966, the released their first album "Freak out"
on the 'Verve' label. They went on to make 6 albums with 'Verve', including
Zappa`s first solo album called "Lumpy Gravy".
Zappa started to show his flare and passion for music, and was starting
to show his individuality as a songwriter and musician, influenced not just
by Blues, but also Jazz(modern and trad), the theatrical elements of Opera,
the style and pomposity of Classical music, the excitment of Latin American
music, and a good sprinkling of Rock'n'Roll. The composers Edgar Verese,
and Anton Webeen, had a big impact on him, and influenced his Classical writing.
In 1969, having made a fair wedge, he Started his own Record Label called
"Bizarre" and signed Bands like 'Captain Beefheart', 'Alice Cooper', and
'Wild Man Fisher'. He also released a total of 10 albums on this label
including,"Chungas Revenge", "The Grand Wazoo", and his first film, "200 Motels"
After some initial sucsess with these bands, and good record sales, Zappa went
on to form his next record label, "Discreet Records" in 1973. he produced 9 albums
including "Overnight Sensation", "Apostrophe", "Bongo Fury" featuring
'Captain Beefheart', and "Zoot Alures".
In 1979, Zappa founded "Zappa Records" And his writing style changed a little
to taking a more satirical look at life and music. He produced "Sheik Yerbouti",
"Joes Garage parts 1,2" and then "3 and 4", and "Tinsel Town Rebellion".
In 1982, Zappa Started his final record label "Barking Pumpkin" Which Produced
over 25 records, including,"Shutup and Play Your Guitar" with new guitar prodigy
'Steve Vai' (who himself has gone on to become a legend) "Ship Ariving To
Late, To Save A Drowning Witch", "Does Humour Belong in Music" (a kind of documentry)
and "Havin` a Bad Day" with son Dweezil Zappa, And the album to bring more
political awarness to the youth of America "Broadway the Hard way". he also
produced some work with his daughter Moon Unit, And worked with The London
Symphony Orchestra.
In 1990 he traveled to Czechoslovakia, and met President Vaclav Havel, who
was a huge Zappa fan. After meeting him Vaclav was so impessed by Zappa`s
Outspoken honesty, and his Humble personality, that he made him Trade and Culture
Emissary.
In 1991 Zappa was diagnosed with Prostrate cancer but carried on working till his
death in 1993. He was working with the Irish Folk giants 'The Dubliners'
Frank Zappa used his music to quite a dramatic effect, to laugh at people, and
to make people laugh. he used many forms of music to comunicate with us,
from Blues, Jazz, Classical, Rock, Folk, Country, and Western, Latin, and
World music. Zappa`s influance can still be heard in a great many of the Bands
today, He was a musical genius, and in my own humble opinion, one of the
greatest musicians of the 20th century.


Chronological Index
FREAK OUT! 1966
ABSOLUTELY FREE 1967
LUMPY GRAVY 1967
WE'RE ONLY IN IT FOR THE MONEY 1968
CRUISING WITH RUBEN AND THE JETS 1968
UNCLE MEAT 1969
MOTHERMANIA (Best of) 1969
HOT RATS 1969
BURNT WEENY SANDWICH 1969
WEASELS RIPPED MY FLESH 1970
CHUNGA'S REVENGE 1970
FILLMORE EAST, JUNE 1971 1971
200 MOTELS 1971
JUST ANOTHER BAND FROM L.A. 1972
WAKA/JAWAKA 1972
THE GRAND WAZOO 1972
OVER-NITE SENSATION 1973
APOSTROPHE(') 1974
ROXY AND ELSEWHERE 1974
ONE SIZE FITS ALL 1975
BONGO FURY (w. Captain Beefheart) 1975
ZOOT ALLURES 1976
ZAPPA IN NEW YORK 1978
STUDIO TAN 1978
SLEEP DIRT 1979
SHEIK YERBOUTI 1979
ORCHESTRAL FAVORITES 1979
JOE'S CARAGE, act 1 1979
JOE'S CARAGE, acts 2 & 3 1979
TINSELTOWN REBELLION 1981
SHUT UP 'N' PLAY YER GUITAR 1981
YOU ARE WHAT YOU IS 1981
SHIP ARRIVING TOO LATE TO SAVE A DROWNING WITCH 1982
THE MAN FROM UTOPIA 1983
BABY SNAKES 1983
LONDON SYMPHONY ORCHESTRA, vol 1 1983
THE PERFECT STRANGER 1984
THEM OR US 1984
THING-FISH 1984
FRANCESCO ZAPPA 1984
FZ MEETS THE MOTHERS OF PREVENTION 1985
FZ MEETS THE MOTHERS OF PREVENTION (European version) 1985
DOES HUMOR BELONG IN MUSIC? 1986
JAZZ FROM HELL 1986
LONDON SYMPHONY ORCHESTRA, vol. 2 1987
GUITAR 1988
YOU CAN'T DO THAT ON STAGE ANYMORE, vol. 1 1988
YOU CAN'T DO THAT ON STAGE ANYMORE, vol. 2 1988
BROADWAY THE HARD WAY 1988
YOU CAN'T DO THAT ON STAGE ANYMORE, vol. 3 1989
THE BEST BAND YOU NEVER HEARD IN YOUR LIFE 1991
YOU CAN'T DO THAT ON STAGE ANYMORE, vol. 4 1991
MAKE A JAZZ NOISE HERE 1991
YOU CAN'T DO THAT ON STAGE ANYMORE, vol. 5 1992
YOU CAN'T DO THAT ON STAGE ANYMORE, vol. 6 1992
PLAYGROUND PSYCHOTICS 1992
AHEAD OF THEIR TIME 1993
THE YELLOW SHARK 1993
CIVILIZATION, PHAZE III 1994
Bootlegs rereleased with Zappa's permission:
BEAT THE BOOTS 1 1991
'TIS THE SEASON TO BE JELLY (live 1967)
THE ARK (live 1968)
FREAKS & MOTHERFU*#@%! (live 1970)
PIQUANTIQUE (live 1973)
UNMITIGATED AUDACITY (live 1974)
SAARBRUCKEN 1979 (live 1978)
ANYWAY THE WIND BLOWS (live 1979)
AS AN AM (live 1981 & 1982)
BEAT THE BOOTS 2 1992
ELECTRIC AUNT JEMIMA (live 1968)
OUR MAN IN NIRVANA (live 1968)
TENGO NA MINCHIA TANTA (live 1970)
DISCONNECTED SYNAPSES (live 1970)
SWISS CHEESE/FIRE (live 1971)
CONCEPTUAL CONTINUITY (live 1976)
AT THE CIRCUS (live 1978)
http://www.esper.pin...ZappaDisco.HTML
Some of the great musicians who worked with Frank Zappa
Ray Collins -- lead vocalist, harmonica, tambourine, finger cymbals.
Jim Black -- drums.
Roy Estrada -- bass & guitarron.
Elliot Ingber -- alternate lead & rhytm guitar.
Billy Mundi -- drums, vocal.
Captain Beefheart -- harp, vocals.
Bunk Gardner -- all woodwinds.
Ian Underwood -- piano, woodwinds.
Euclid James Motorhead Sherwood -- soprano & baritone saxophone.
Gary Kellgren, Dick Kunc, Eric Clapton.
Jack Bruce, Tom Fowler -- bass.
Steve Vai -- guitar, Ray White -- guitar, vocals.
Tommy Mars -- keyboards, Chuck Wild -- broadway piano.
Arthur Barrow -- bass, Scott Thunes -- bass.
Jay Anderson -- string bass, Ed Mann -- percussion.
Chad Wackerman -- drums.
Steve De Furia & David Ocker -- synclavier programmers.
Ike Willis, Terry Bozzio, Dale Bozzio, Napoleon Murphy Brock.
Bob Harris, Johnny 'Guitar' Watson -- vocals.
Adrian Belew -- rhythm guitar, vocals, Ed Mann -- percussion, vocals.
Moon Zappa -- vocals, Dweezil Zappa -- guitar. Chester Thompson -- drums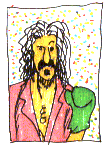 And there you have it a fantastic legends thread by Frankyz so until next legends thread Adios