submission courtesy of guitarfan19
Artist
AC/DC
Album
The Razors Edge
Released in 1990. Produced by: Bruce Fairbairn.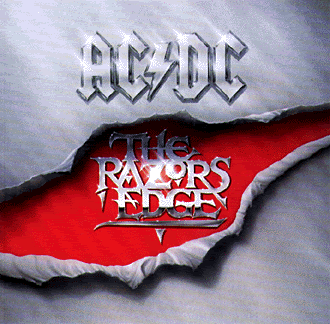 Tracks:
1. Thunderstruck
2. Fire Your Guns
3. Money Talks
4. The Razors Edge
5. Mistress for Christmas
6. Rock Your Heart Out
7. Are You Ready
8. Got You By the Balls
9. Shot of Love
10. Lets Make it
11. Goodbye and Good Riddence to Bad Luck
12. If You Dare
Lead guitar: Angus Young
Rythym guitar: Malcolm Young
Lead Singer: Brian Johnson
Bass: Cliff Williams
Drums: Chris Slade
AC/DC's first album since 1986 became a true classic. the album busted out two of the bands biggest hits that they had ever done. All songs were written by the two Young brothers, while Johnson was having a bit of a rough time so he did no help write, and the two brothers wrote a great album together. Well done boys!
AC/DC released this album during a period when hair metal and pop were the most popular musics but when The Razor's Edge hit the shelves with the hits Thunderstruck and Money Talks people went crazy over AC/DC...again. The ratings had dipped a bit since AC/DC's 1981 released album For Those About to Rock but this record thundered up to #2 on the chart and became a multi-platinum album.
The album was produced by Bruce Fairbairn who had also worked with Bon Jovi, Aerosmith and Poison over the years.
The first track on this album became legendary and showed that after 2 years AC/DC could still rock. Thunderstruck, featured one of Angus's signature licks and with Malcolms great rythym parts added it made on of the catchiest tunes off all time. with the chant of THUN-DER! going thru the song, it quickly became AC/DC's greatest hit along with Back in Black and Highway to Hell.
The next track (Fire Your Guns) was also a catchy tune that is one of my personal favourites from this album. rockin fun.
Money Talks caught up quickly with AC/DC's other hits and can be heard in most of the bands concerts. Some great riffs by both Angus and Malcolm and the lyrics added by Brian Johnson makes this song one you'll be singing or tapping your foot to all thru the song.
The title track, The Razors Edge, keeps up the great riffs in this album. with somewhat haunting lyrics it makes you wonder sometimes.
The rest of this very catchy album are straight up, rock the night away, AC/DC rock n roll fun.
This album shows that AC/DC is truly one of the greatest rock n roll bands and proves over 15 years of great music and the band continued to release great music up to the year 2000 with Stiff Upper Lip. i would give it a 9 out of 10 rating. Johnson's lyrics are great on this album and Malcom and Angus continue their classic riffs. great AC/DC on this album for ya.