Submission courtesy of crappy acoustic

Artist:
Bob Dylan
Album:
The Bootleg Series, Vol. 4: Bob Dylan Live, 1966: The "Royal Albert Hall Concert"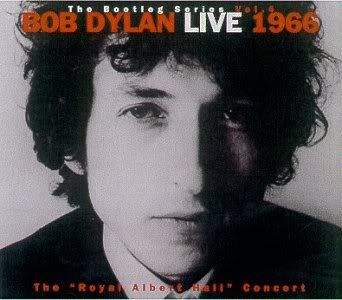 Originally Released Oct. 13, 1998 by Columbia Records
Originally Recorded: May 17, 1966
Musicians:
Bob Dylan: guitar, harmonica, piano, vocal
Robbie Robertson: guitar, backing vocals
The Hawks
Tracklisting:
Disc 1.
1. She Belongs to Me
2. Fourth Time Around
3. Visions of Johanna
4. It's All Over Now, Baby Blue
5. Desolation Row
6. Just Like a Woman
7. Mr. Tambourine Man
Disc 2.
1. Tell Me, Momma
2. I Don't Believe You (She Acts Like We Never Have Met)
3. Baby, Let Me Follow You Down
4. Just Like Tom Thumb's Blues
5. Leopard-Skin Pill-Box Hat
6. One Too Many Mornings
7. Ballad of a Thin Man
8. Like a Rolling Stone
Review:
1966, Royal Albert Hall Manchester, England. Bob Dylan straps on an electric guitar to the chagrin of all his fans. Yes, it's the infamous Judas concert. This also is the best-recorded Dylan concert you could hope to find. The quality, both technical and musical, is superb. This may be billed as a "bootleg" but the sound is nearly that of a studio album.
The first CD of course is Dylan's acoustic set. For seven songs, it is just Dylan, an acoustic, and a harmonica and it is nothing short of amazing. Dylan does not make one false step in the entire set, perhaps wanting to give the old folk days a good send off before ripping into R 'n R. He seems to be playing with a new sense of vigor, although it may be just excitement at not knowing how the crowd will respond to the coming electricity (he had had bad experiences when first plugging in at the Newport Festival - he had to come back and do some acoustic numbers to calm the crowd down). Even the song Mr. Tambourine Man, which I never liked that much, has new life breathed into it
The second CD is Dylan's electric set, backed by a full band. When I first listened to this, I expected to hear loud booing right away but I was surprised that the audience not only claps loudly for Dylan, but actually laughs when he jokes at the beginning of I Don't Believe You ("This is `I Don't Believe You', it used to be like that (referring to acoustic) now it goes like this") before ripping into the song. I was expecting an immediate outcry and I admit I was slightly disappointed that the much-hyped Judas concert was turning out to be nothing like I thought. Then at the end of Tom Thumb's Blues the crowd really starts to lay into Dylan, interrupting him when he talks by clapping loudly as well as heckling him (I could barely make out someone yelling "Sell out!!"). It really gets bad before Like a Rolling Stone though. After the clapping for the previous song dies down there is a moment of nearly complete silence and someone yells clearly "Judas!" and is met with rousing applause from the rest of the crowd. When that dies down you can hear someone once again yelling about how Dylan has "sold out". "I don't believe you" Dylan replies, then right before the song he says "You're a liar!" The crowd is so loud at this point that Dylan turns to the band and yells "Play f**king loud!" And they certainly do! The version of Like a Rolling Stone that follows is something to behold. Dylan's singing is fueled by the crowd's boos and insults and is without a doubt his best performance of the song to date.
Ignoring the historic significance of the concert, the music itself on the electric half is Dylan's best. Every song is infused with new energy, and puts the original versions to shame. Perhaps it is because of the crowds boos, the novelty of performing with electrics for the first time, but whatever it is you can't deny it is something special. If I had to pick favorites, I would pick everything from Leopard-Skin Pill-box Hat through Rolling Stone. The whole thing is great, but the band seems to get more energized and louder as the evening goes on (again, probably propelled by the reaction from the crowd). This is nothing short of essential listening for any fan of good music.
Whether you buy it to hear the rock and roll history, the great music, or just because you are a Dylan completist, the reason does not matter. What matters is that you buy this. It is an experience that you won't soon forget.