IK Multimedia is having one of their "group buy" extravaganzas, and for this week (August 8, 2011 through August 14, 2011) the 15YEARS promotional discount is doubled to 30 percent, and you get double JAM Points . . .
15 Year Anniversary Group Buy (IK Multimedia)
The way this "group buy" works is that you get a free software-only downloadable product of the same MSRP or lower when you purchase a qualifying product, and if the "group buy" gets full participation (5,000 purchases), then everyone gets a second free software-only downoadable product of the same MSRP or lower . . .
So, if you have been contemplating the idea of having a bit of FUN with virtual instruments, virtual guitar rigs, advanced mixing and mastering VST plug-ins, and so forth, then this is an excellent time to get a lot of great stuff at a discount of approximately 75 percent . . .
The rules are a bit like the National I. Q. Test, and determining the best strategy to get the most stuff at the highest discount requires understanding the IK Multimedia product line, as well as which products are considered "hardware" and how to qualify for crossgrade pricing, since once you qualify for crossgrade pricing (which occurs when you purchase your first IK Multimedia product), you can purchase the "qualifying" product at crossgrade pricing and apply the 15YEARS promotional discount to reduce the price by another 30 percent (at least for today and tomorrow), but for the free product(s) and JAM Points you get credit for the full manufacturer's suggested retail price (MSRP) rather than the additionally discounted crossgrade price . . .
Basically, if you do not have any of the IK Multimedia stuff, you can get somewhere in the range of $2,500 to $3,000 (MSRP) of stuff for about $500. . .
The key bit of information is that products that are considered to be "hardware" have to be the qualifying product if you are interested in a "hardware" product, because the free products only are software downloadable products . . .
And the two primary "hardware" products are the full StealthPedal rig (StealthPedal, Double Switch Pedal, and Expression Pedal) and the ARC Sysem, which included a microphone and is used to calibrate loudspeakers for mixing and mastering . . .
For example, one way to get everything is to get the AmpliTube 3 Pedal, which is the StealthPedal and AmpliTube 3 bundle, as one qualifying "group buy" purchase, which in the US lists for $399.99 but with the 30 percent discount at the IK Multimedia Store costs $279.99 plus $16 shipping (US), and you get double JAM Points, but the full MSRP is used to determine which free product(s) you can download, and the best selection for the first free downloadable product is the Total Workstation 2 Bundle, which gets you all the IK Multimedia virtual instruments . . .
[
NOTE: The Stealth Pedal can be enhanced with a Double Switch Pedal and an Expression Pedal, and this is the rig I purchased, since you also get the 15YEARS promotional discount and JAM Points on the Double Switch Pedal and Expression Pedal, although they do not qualify for the "group buy", but so what. It is a significant discount, and it makes the full StealthPedal rig very nice . . .
]
The second product can be the ARC System, which has the same 30 percent additional discount, double JAM Points, and $16 shipping (US), where the first free software-only product is T-RackS 3 Deluxe Crossgrade, since by the time you register the ARC Sysem, you qualify for crossgrades and then can select the T-RackS 3 Deluxe Crossgrade as your first free product, even though you actually paid $209 for the ARC System with the 30 percent discount but received full MSRP credit for purposes of selecting the first free product . . .
At this point you have spent approximately $500 (US), but you have the AmpliTube Stealth Pedal ($399.99), Total Workstation 2 Bundle ($399.99), ARC System ($299.99), and T-RackS 3 Deluxe ($499.99), which at full MSRP maps to $1,600 (US), and you have somewhere in the range of 200 JAM Points, and if the "group buy" gets full participation, then you get two more free software-only downloadable products, which can be CSR Classik Studio Reverb (a personal favorite) and one of the AmpliTube add-on modules like AmpliTube Fender or Ampeg SVX, since at this point you have nearly all the IK Multimedia stuff . . .
[
NOTE: If you get the extra pedals for the StealthPedal, the you will have spent $600, since with the discounts the extra two pedals cost approximately $100 . . .
]
QUESTION: How do I use all this stuff?
Great question!
If you play electric guitar, then there are two ways you can use all the virtual instruments, where one way is to use AmpliTube via the StealthPedal and your computer, but another way is to enhance your electric guitar with the GraphTech Ghost System, which is done by replacing the bridge saddles with GraphTech piezoelectric saddles and connecting the output to a MIDI board, which translates what you play on guitar into MIDI notes and commands, which you then can use to control the IK Multimedia virtual instruments . . .
And there is a third way, which is to use the IK Multimedia instruments, mixing and mastering software, AmpliTube, and CSR Classik Studio Reverb in a combination of Notion 3 (Notion Music) and a digital audio workstation (DAW) application like Ableton, Digital Performer (MOTU) or Logic Studio (Apple) on the Mac or one of the professional DAW applications that runs in the Windows universe like Ableton, Sonar (Cakewalk), and so forth and so on . . .
One of the advantages of using Notion 3 for music notation and virtual instruments is that it is very intuitive and easy to use, which is especially important for primarily "play by ear" folks--including me--since you hear the notes played when you enter them in music notation and later move the notes upward or downward, which basically maps to being able to do a song at least by entering it one note at a time and then adjusting the notes until they sound right, which basically is the way I do it, except that I learned how to sight-sing treble clef music notation years ago, which makes it a bit easier to work with music notation and is something that one learns after working with music notation for a while, even if it is an entirely new experience . . .
As an example of what one can do with all the IK Multimedia stuff, Notion 3, and Digital Performer 7.24 on the Mac, this is the current song I am developing for my pretend musical group (The Surf Whammys), where all the instruments are done with music notation and IK Multimedia virtual instruments in Notion 3 and then recorded as soundbites in Digital Performer 7.24 via ReWire, which is fabulous . . .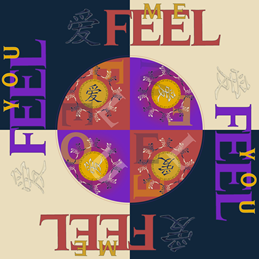 [
NOTE: This is a loudspeaker mix done with loudspeaker monitors that I calibrated with the ARC System, and is it mastered with the T-RackS 3 Deluxe "Master 1" mastering suite, but converted to MP3 via iTunes on the Mac. I will add real lead guitar solos, later, probably when the Stealth Pedal rig arrives next week or thereabout . . .
]
"Feel Me" (The Surf Whammys) -- July 28, 2011 -- MP3 (8MB, 300-kbps [VBR], approximately 3 minutes and 38 seconds)
Fabulous!
P. S. I am going to add this post to the "Feel Me" topic over in the Guitar Q&A section, which is where I usually post, since it is relevant and the information can be helpful to guitar players who have been thinking about getting into home studio recording, music notation, virtual instruments, and so forth and so on . . .