this is great !! i used to fool around with these type of programs. even had a serial port pickup that i could never get to work on win95
Glad you like it!
At present it's all done in NOTION 5 (PreSonus) with music notation and VSTI virtual instruments, along a a handful of VST effects plug-ins . . .
Once I decide on a chorus, bridge, or interlude, I will switch production to Digital Performer 9 (MOTU), which is done by recording the NOTION 5 generated audio in Digital Performer 9 in a set of ReWire sessions where Digital Performer 9 is the ReWire host controller and NOTION 5 is a ReWire slave application . . .
NOTION 5 and the VSTi virtual instruments and VST effect plug-ins do a lot of very intense computing, so I remove the VST effect plug-ins and do the VSTi instrument audio transfers in small sets . . .
The Digital Audio Workstation (DAW) application only has to do the computing for the effects plug-ins, so it has more resources available for doing elaborate producing and audio engineering . . .
The NOTION 5 generated audio becomes a set of audio tracks in the DAW application, hence do not require intense computing . . .
It took me several years to make sense of everything and to develop a complete system, but it's working nicely and it makes it possible to have hundreds of instrument and singing tracks, where for example there can be as many as eight tracks of an instrument, each of which is panned to a different location, which makes it possible to do something I call "sparkling" and is a technique where individual notes can be positioned in any of the eight panning locations of what I call the "Rainbow Panning Arc" . . .
I usually "sparkle" snare drum rimshots so I can alternate them from far-left to top-center to far-right in various patterns, which creates a "back-and-forth" type of motion, as is heard in this Surf Whammys song. This would be difficult to do with a real drumkit, but it's relatively easy to do with a virtual drumkit and music notation . . .
Moving the virtual instruments to the Digital Performer 9 makes it possible to have a bit of FUN with ducking, where in this song the singing is made more prominent by ducking some of the instruments. Basically, when there is singing a set of virtual compressors lower the volume levels of selected instruments to make space for the singing, but when the singing stops the "ducked" instruments pop back to the front and become prominent, which is a nice way to make stuff sound louder with actually making it louder all the time, and because its done automatically by the compressor limiters, it doesn't require manually moving volume sliders . . .
[NOTE: The "sparkling" is more dramatic when you listen with headphones, and for reference the electric guitar is real, since for me it's easier to play it on the Fabulous Fifty Million Dollar Trinaural StracasterĀ® than to try to do it with music notation . . . ]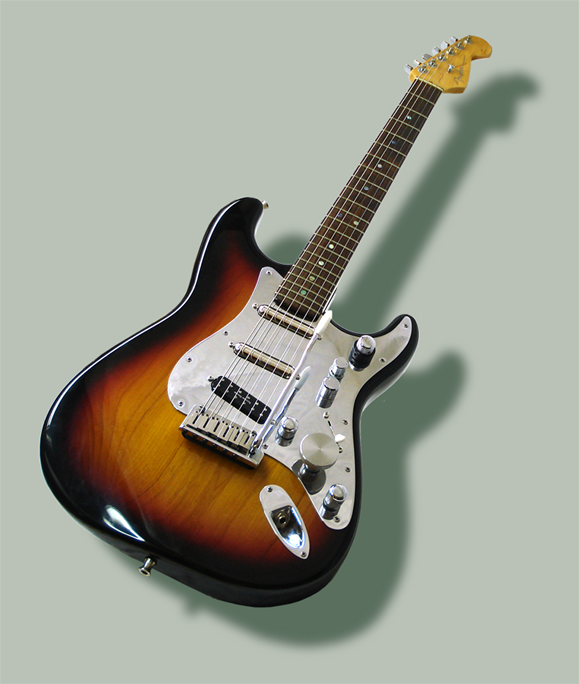 The Fabulous Fifty Million Dollar Trinaural StratocasterĀ® ~ featuring The Really Big Knobā"¢
Lots of FUN!